Here's my first of many weekly surveys. I'm technically 15-and-a-half weeks now, but it took me a few extra days to get the blog up and running after I originally wrote the post. I may not complete a survey every week, but I'll try to complete one each week with significant change. 14 weeks marks the start of my second trimester and is consequently a great week to start.
How far along are you? 14 weeks

What size is baby? 3 inches, roughly the size of a lemon

Gender prediction? We will hopefully find out the gender at 21 weeks. I've had dreams about a boy, but when I pray I tend to say "she."

Planning a natural or medicated birth? Natural

How much weight have you gained? 4 pounds

Food cravings: French fries from Chick-fil-A and strawberry smoothies

Maternity clothes? I purchased a Bellaband around 12 weeks since I couldn't button my jeans. It's been a life saver at work. My Dad also bought me some shirts and a cute maxi skirt that I am looking forward to wearing in a few weeks. My husband finally told me that it's time for maternity jeans, so H&M here I come.

Exercise routine? I need to get back into a routine. I hibernate in the winter.

Sleep Habits? I slept incredibly well for the first 11 weeks since I was nauseated during the day, and my mouth tasted like metal. I slept terribly from weeks 11-13. Sleep seems to have gotten better again recently. Thank goodness! I do tend to fall asleep on the couch around 8:30 each night. Micah takes Presley out and turns down the bed which is thoughtful.

Best moment of the week? Announcing the pregnancy on Facebook

Biggest discomfort of the week? Nose bleeds! I finally bought a humidifier, and that has helped immensely.

Weekly wisdom? Worry less about baby's health because baby is in God's hands
Also, here are a few pics from the first trimester. The bump is still little, but it's definitely growing!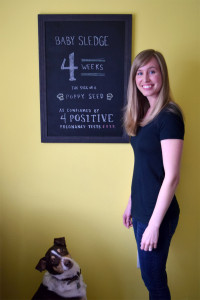 In my next post, I plan to write about the different pregnancy announcements to my husband, our family, and friends. Stay tuned!
With love,
Lindsay