On Friday I had my third appointment,  so it's time for another update!
How far along are you? 17 weeks

What size is baby? 5 inches, roughly the size of a turnip. I will have to swing by the Kroger turnip section for a comparison since this means nothing to me.

Gender prediction? We find out in 3 weeks, on Good Friday! We're strongly considering asking the ultrasound tech to put the gender in an envelope that we open with close friends and family during the gender reveal party. We'll see if we can wait! I'll post in a few weeks about the old wives' tales and which gender they predict for Baby Sledge.

Planning a natural or medicated birth? Natural

How much weight have you gained? 6 pounds

Food cravings: Starbucks hot chocolate

Maternity clothes? I love maternity jeans. Seriously, they are so comfortable. I also love the three maternity shirts that I fit into. They make the belly look cute somehow, which is a relief because most of the time I feel like I look awkward.

Exercise routine? I am back on a schedule! I've been waking up several mornings each week to walk and lift weights before work. I also walk 3 miles at the park on Saturdays. It helps that Micah's training for the Nashville half marathon and is on a strict schedule.

Sleep Habits? Sleep is a beautiful thing. I still fall asleep on the couch at 8:30pm most nights. I've never been a deep sleeper, so I'm enjoying this perk of pregnancy.

Best moment of the week? Hearing the baby's heartbeat. It was much louder during this appointment than at 13 weeks, and it amazes me that it's coming from our little one.

Biggest discomfort of the week? Anxiety. I'll probably write an entire post on this topic because it has played a major role in the pregnancy thus far. I'm still working on finding the right words.

Weekly wisdom? Many of my friends are simply a phone call away, and it's ok to reach out to them when having a hard day. Thanks especially to Emilie, Lauren, Katie, and Kristin. Love you ladies.
Here's the latest bump pic!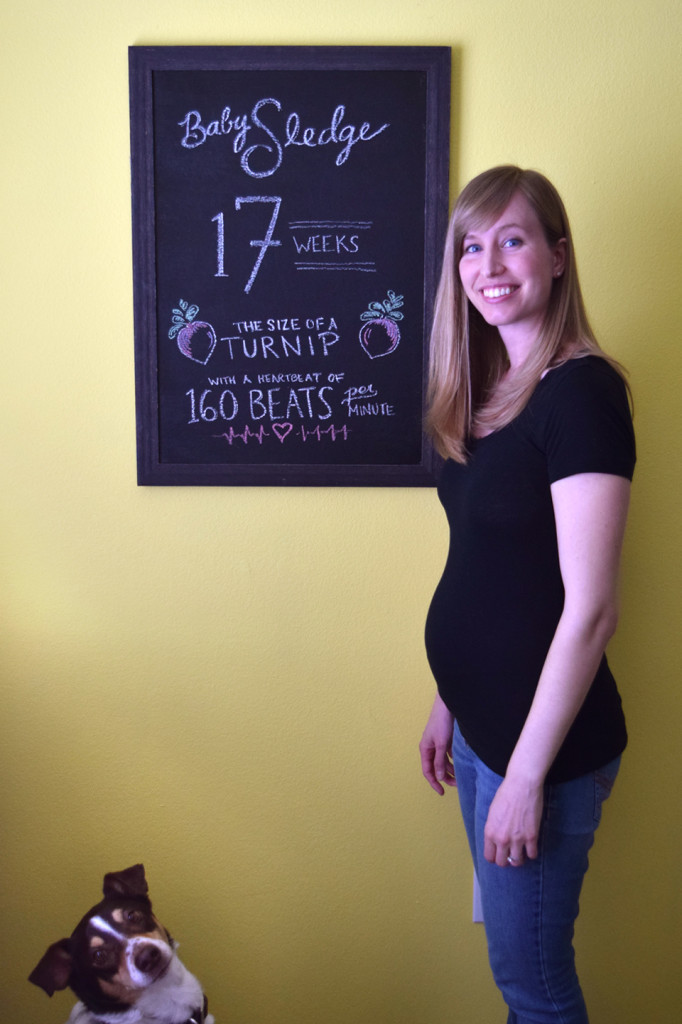 With love,
Lindsay