I always thought I'd wait until the end of the first trimester to let people know I was expecting. Then I became pregnant and overjoyed at the prospect of sharing such good news with family and friends. I've read the articles and understand why many people do wait, but for me waiting created unnecessary anxiety about all the things that could go wrong. It was fun sharing the news, especially since I knew it meant more people would be praying for Baby Sledge. Here are a few of the more elaborate announcements.
My husband: Micah and I always said we'd wait around 5 years after our wedding to start trying for children. Last July, after our 4 year anniversary, we decided that we were tired of waiting and would start trying soon after our trip to Europe. A month after we got back, I woke up one morning before church and felt like I should take a pregnancy test. I snuck into the bathroom before Micah woke up, took a test, and voilà, a faint positive pink line. I was so excited and also a bit unsure if it was real. Since I didn't have any other tests at home, I didn't tell my husband immediately. We went to church, came home for lunch, and I told him I needed to shop for Christmas. I went to the store, bought a few more tests, and took one. It came back negative. I wasn't completely discouraged since I'd read that it's best to take tests first thing in the morning. So I waited all afternoon and evening, and when I woke up the next day, I took two tests, and they both came back positive! I wrapped up the tests and put them under the Christmas tree. I wrote a note on the chalkboard in the kitchen, and when my husband came to the door to leave for work, I asked him to grab our lunches. He walked to the kitchen, immediately noticed the present, and looked at me with confusion. Once he picked it up and saw the note that said, "Baby Sledge due August 2016," he smiled like crazy and asked me, "Really?" He ran to me, gave me a hug, and I told him to open the present. He saw the tests, told me how excited he was, and off we drove to work. It was a fun ride that morning. We were both shocked and happy and thankful and surprised to discover that our lives will soon change forever.
Micah's dad: We waited until after the first ultrasound at 9 weeks to share the news with family. Since Micah's dad's birthday was a few days after the first ultrasound, we decided to wrap the announcement up as a birthday gift. His dad is a Trekkie, so Micah designed the following card, and we wrapped it up with a Star Trek onesie.
My dad: Last Father's Day, my dad wanted to see the movie Jaws which was playing in theaters. I don't personally love scary movies, but Jaws is a classic, so I obliged. While discussing announcement ideas with Micah, he decided we should use a quote from the movie. He proceeded to design this epic card.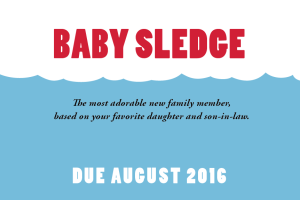 Facebook: I love Micah's design skills, but I wanted to be involved in the main baby announcement. We weren't sure how we were going to share the news until the day of the Nashville Snow. We got 5.5 inches and decided to make the most of it. We braved the cold and built a little snow family. We tried to get Presley in the picture, but he kept eating the carrots. Here's the final pic.
To conclude, announcing the pregnancy was so fun, and it was particularly exciting to cater the announcements to different family members. I am glad that we waited until after the first ultrasound to share the news, and I am also glad that we didn't wait until the end of the first trimester to tell everyone because the excitement was too much to contain.
As always, thanks for reading.
With love,
Lindsay