Time is starting to fly by. Here's the latest weekly survey.
How far along are you? 21 weeks

What size is baby? 7 inches, roughly the size of a banana. My app is still measuring crown to rump as opposed to head to heel, so we'll stick with it even though it seems unusual.
Gender prediction? We are having a baby boy!
Planning a natural or medicated birth? Natural
How much weight have you gained? 13 pounds, good grief
Food cravings: Cadbury eggs, ice-cream, and brownies. This may be contributing to the weight gain.
Maternity clothes? My mom sent me some beautiful maternity dresses and a cute casual outfit! The dresses are very colorful, like the springtime.
Exercise routine? It's amazing how motivating a baby is in the morning. I still wake up three days before work to exercise, and I walk whenever it's nice outside on the weekend.
Sleep Habits? Sleep is getting harder since my belly is getting bigger. I normally sleep on my left side, and some mornings, around 3-5am, I wake up with hip pain. I can't complain too much when I consider the lack of sleep I'll be getting in a few months. I am praying for a sound sleeping baby.
Best moment of the week? Announcing the baby's gender to family and friends. Thanks to my sister-in-law, Brooke, who organized a wonderful gender reveal party. Thanks to my mother-in-law for baking a cute monkey cake. Thanks to so many of our friends for joining in the celebration. Baby Sledge is definitely loved.
Biggest discomfort of the week? Upper respiratory infection
Weekly wisdom? Find ways to calm down during mood swings that don't involve complaining to Micah. He's been so sweet and understanding. I really wish I had a house and a piano because this used to be my stress remedy. Reading fiction has helped recently.
Below is the latest bump pic as well a pic and video from the gender reveal party.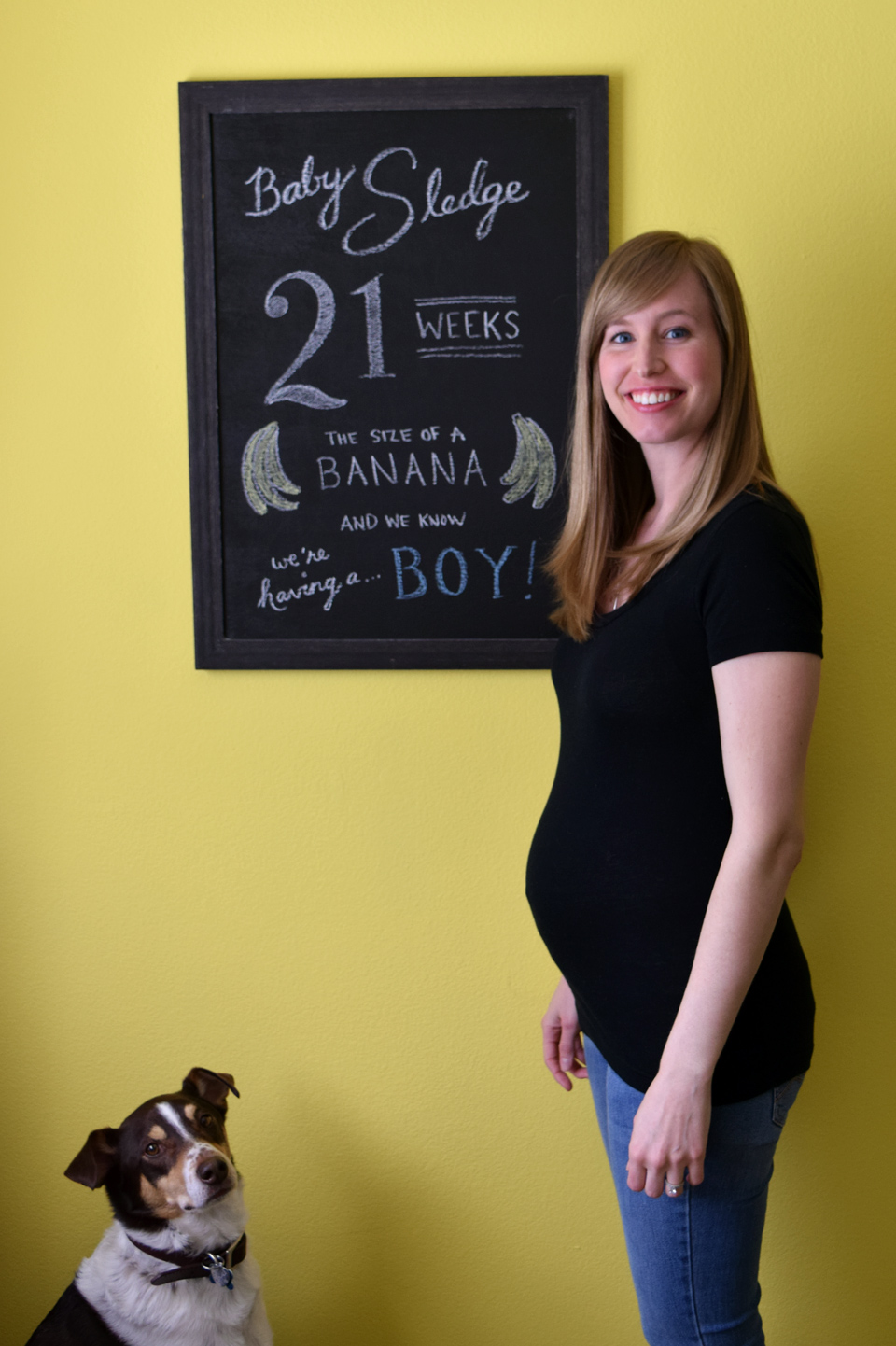 With love,
Lindsay