Hey everyone! I lost internet service over the weekend, so this update is a bit late. Baby and I have made it to the final month of pregnancy! I cannot believe how quickly the days are passing. Here's the 36 week survey.
How far along are you? 36 weeks
What size is baby? The 36 week average is 18.66 inches, 5.78 pounds, and the size of a large cantaloupe.
Gender prediction? We are having a baby boy!
Planning a natural or medicated birth? Natural. The doctor said Baby is head down at my most recent appointment so that's positive news. I'm also already dilated 1-2cm which is exciting! I know that I could stay that way for weeks, but the doc said it's unlikely Baby will arrive late.
How much weight have you gained? 29 lbs
Food cravings? Strawberry smoothies and orange creamsicles. Micah picked up some orange creamsicle ice-cream from the grocery store because he's so thoughtful!
Maternity clothes? I am always in maternity clothes. I miss my waist and the ability to wear cute sundresses. I also miss wearing my wedding ring! It's so funny that when I was newly pregnant, I wanted the bump. Now I have the bump and all I want is to be slim again. I think I will miss looking pregnant in a few months because my belly amazes me each morning when I see it. Currently though, I am ready to return to my regular clothes.
Exercise routine? Micah, Presley and I have been walking in the evenings in our new neighborhood. I love walking with the boys, I love that we live so close to a playground and a greenway, and I look forward to the day when Baby Sledge will be walking with us.
Sleep Habits? Sleep is a disaster again, mostly because of the adjustment to the new house. Presley whines at night, the trains wake me up, though Micah sleeps through them, I use the restroom regularly, and heartburn is awful when I lay down.
Best moment of the week? I've had several. 1) During my doctor's appointment, Micah hid behind a curtain while the doc checked me, and it was hilarious. 2) My sister-in-law, Brooke, unexpectedly sent first edition prints from a Curious George book to hang in the nursery. 3) My church small group hosted a barbecue Friday night. We ate delicious food, played basketball, and talked until late in the evening.
Biggest discomfort of the week? Heartburn
Weekly wisdom? Enjoy snugs with Presley. He has been such a velcro dog lately, following Micah and me from room to room. He will still get snugs after Baby arrives, but his life will look a bit different since he has to share the attention.
Here's the latest bump pic! Sorry the yellow background is gone and the chalkboard is on top of a pedestal. New house, new rules. I did manage to squeeze into my size 6 maternity jeans, so I consider the pic a victory.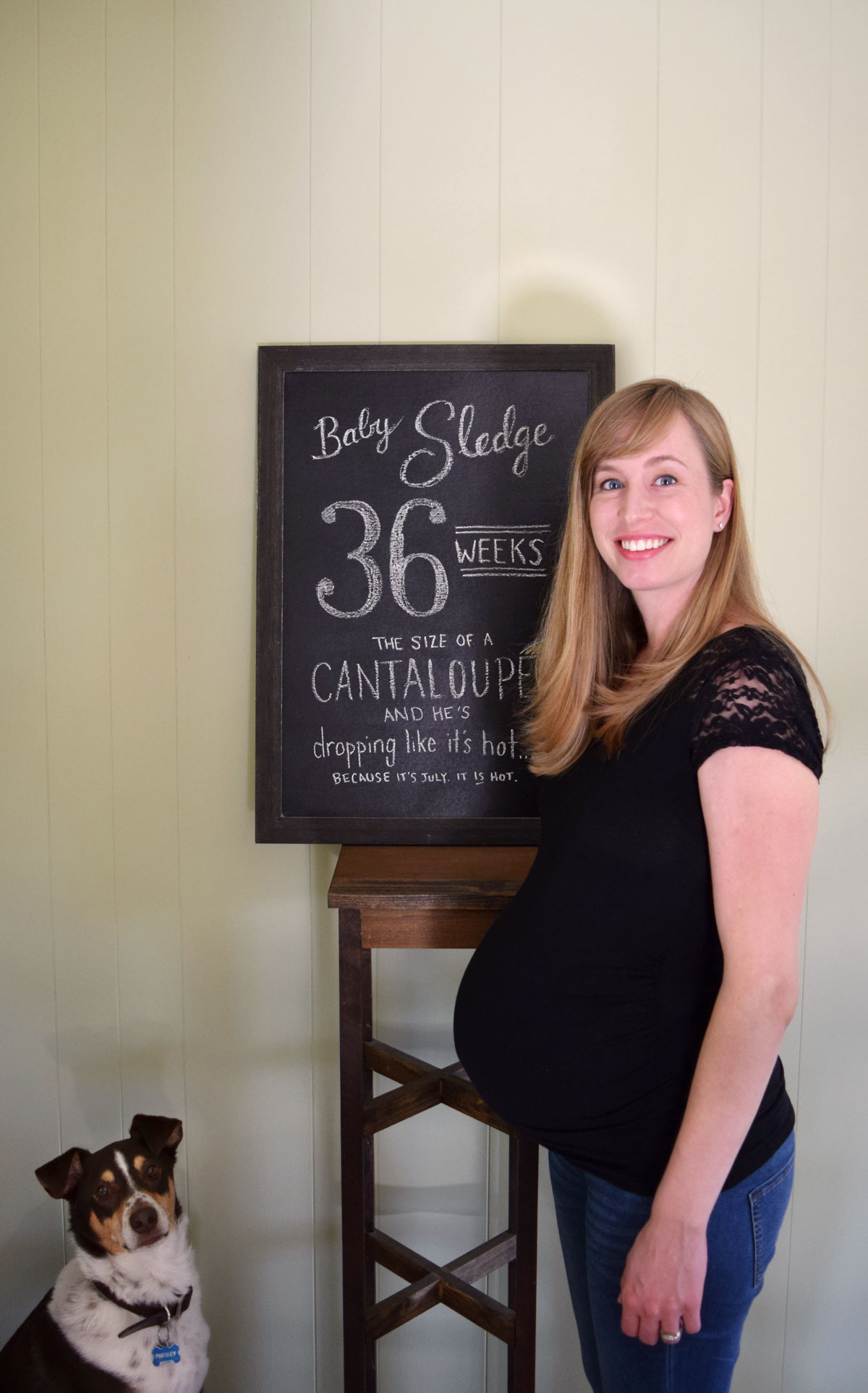 With love,
Lindsay