Dear Denver,
You are five months old! Good grief, where does the time go? This month was super busy for our family, specifically because I went back to work for two weeks. Who came to stay with you? My Mom, Nanny! You two had a blast. She helped you learn to roll from your back to your tummy, played nursery rhymes on the guitar, and read many books to help you learn the alphabet and numbers. Nanny and Kerry also bought you an exciting Christmas present, a jumperoo, and you love this thing. You spend hours each day jumping and dancing.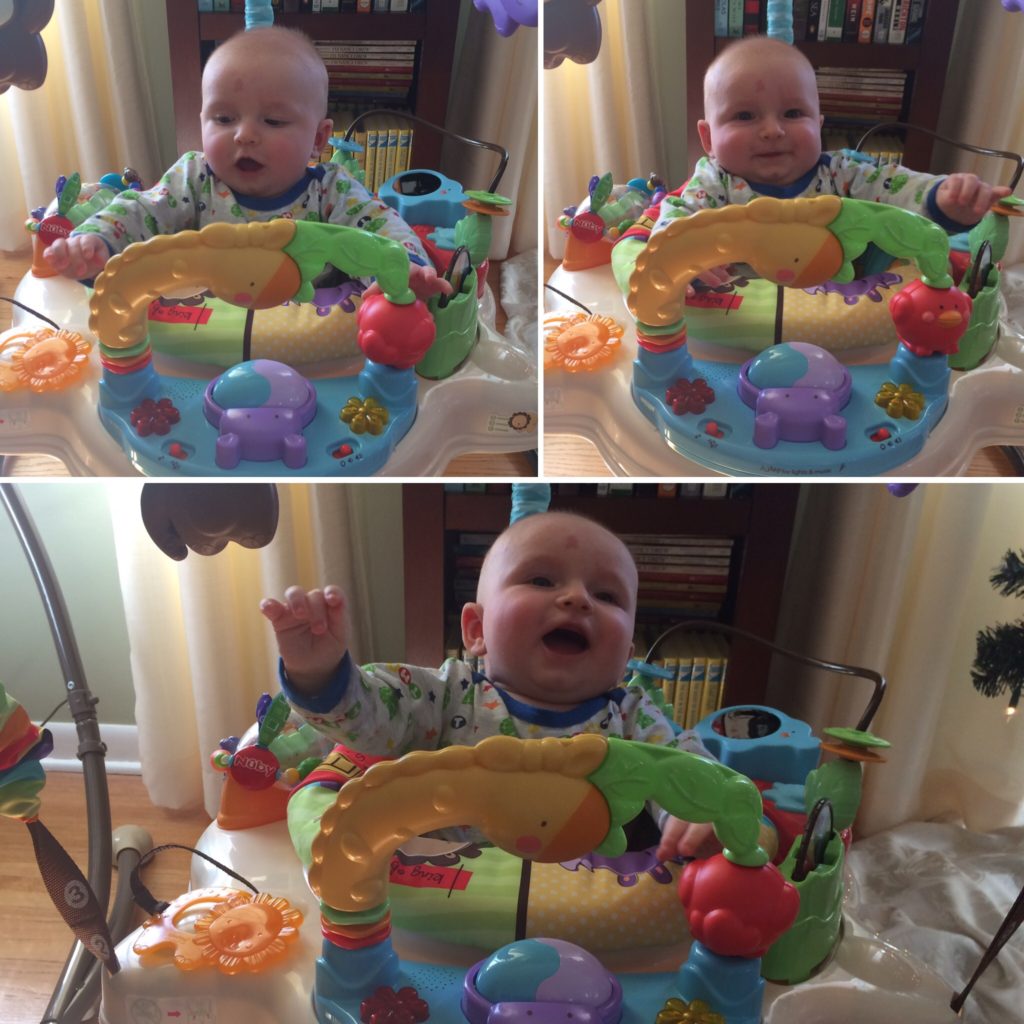 When Nanny was here, you also went to your first circus. You slept through half of it and stared mesmerized for the other half of it. There was one moment when a stuntman almost fell, and Nanny and I yelled loudly. We startled you, and you became very upset. It's actually a pretty hilarious memory because it was such a simple thing to get upset about. Love you, buddy, especially when you're ridiculous.
Big news: your first two teeth arrived! Apart from drooling, chewing everything in sight, and tugging at your ears, you've handled teething like a champ! Your two lower teeth are adorable, and it seems like your next two upper teeth are going to arrive soon as well.
For Christmas this year, we traveled to Virginia Beach to spend time with my family and to meet your cousin, Carmen! I am super thankful that you two are so close in age, and I hope that you will play together often in the years to come. Christmas Eve at Great Grammie and Grandpa's was a blast, and I am relieved that you did so well staying up past your bedtime. Additionally, you received many interactive gifts this year, including Scout the talking dog, Annie the alphabet pup, and an activity cube! You have fun playing with each of these new toys, and hopefully you're learning a few things too. Here are a few pics from the trip.
You had another doctor's appointment this month, and surprise surprise, your height is still off the charts. During the appointment, the pediatrician suggested that we start you on solids at some point between four and six months. While in Virginia, you finally expressed an interest in food! You kept trying to grab food off of peoples' plates. Consequently, once we returned to Nashville, we started you on baby oatmeal. You're still getting the hang of it, but pretty soon we'll be starting vegetables at dinner time. I hope you like sweet potatoes and squash, little man. You've got quite a few years before I'm willing to introduce you to Pappy and Daddy's favorite, Little Debby cakes.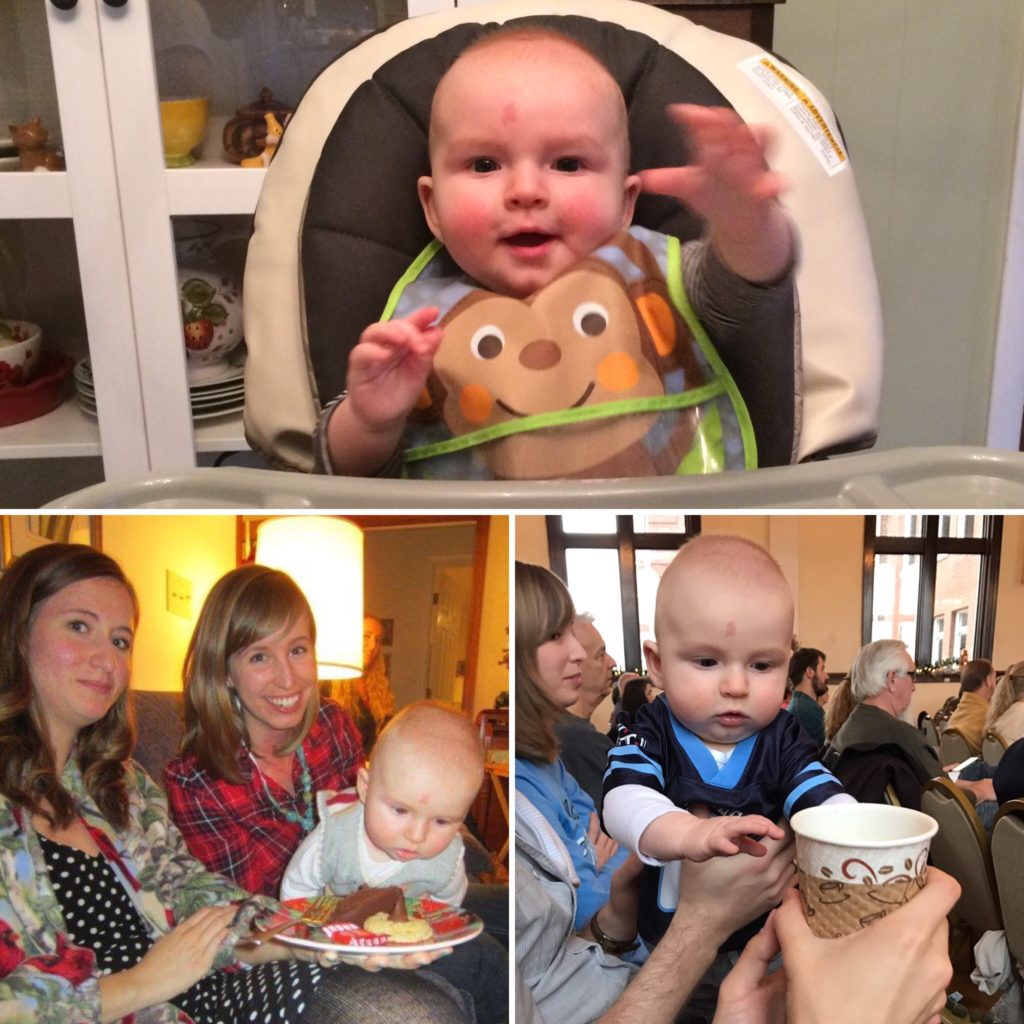 Let's talk about your bedroom. The house has been a work in progress, which I'll tell you all about in the future, but Dad finally had some free time during Christmas break. He used this time to paint a Curious George mural in your nursery. It's colorful, encourages reading, and makes me so happy when I see it each day.
Last but not least, you went to your first Titans game! You enjoyed seeing all the people in the stadium, and you always enjoy being outside, but the noise was a bit much for your baby ears, so we had to leave early. Dad and I recently purchased some baby headphones, so hopefully we'll be better prepared for games in the fall!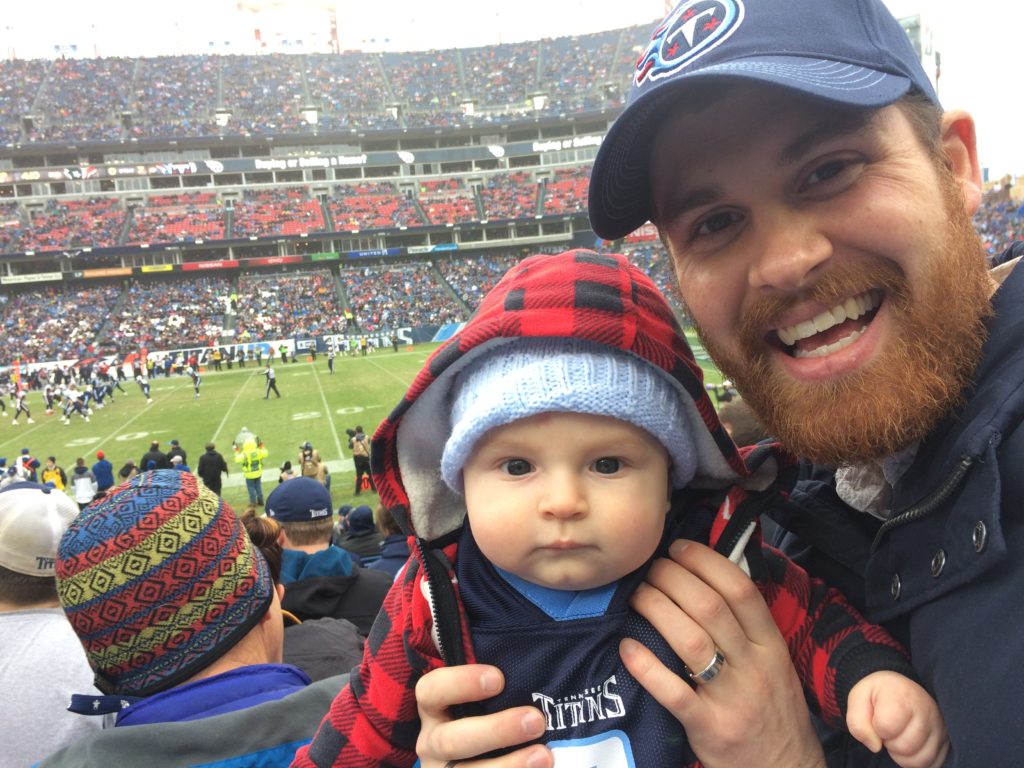 Denver, you are incredibly loved. Happy 5 months!
With love,
Mama
P.S. Here is my favorite pic from the month.  Thanks, Nanny, for taking it!