Dear Denver,
Happy 7 months, my little inchworm! This month you became mobile. Early on, you learned how to rock back and forth on your hands and feet. Sometimes you would scoot backwards. It took time, but you recently created a unique system for moving forward, known as the inchworm. I am amazed at how quickly you can move into mischief, and you're certainly using your new skill to explore the house. You especially enjoy chasing after Presley, and I have to keep a close eye on you two.
You are still a silly bear and love putting toys on your head. Dad and I laughed out loud when you put the ring tower on your head, and we dubbed you the dinnertime unicorn. You laughed out loud when Dad put your pants on your head before bedtime. I am thankful for a house full of laughter.
This month, Dad and I bought you some new toys because you've entered a very playful and somewhat independent stage.  Your favorite toy is definitely the baby piano. You expressed an early interest in music, probably because I play the piano and sing to you each day. When I set you in front of your own piano, you immediately began playing, with a big smile on your face. It's amazing how you learn by observing. I'm trying to teach you new ways to play with toys, and you've learned how to place blocks in the activity cube and also how to pull the blocks back out. Your bedroom is such a happy place now because we spend the day playing and learning. I also finally purchased a lampshade for Bumbee, an antique lamp from my mom's childhood, which brightens up the room. Now we just need to find Bumbee some wings.
You are quite a character on the go. In your stroller, I dress you up in a floppy hat and sunglasses. It's hard to tell if you're awake because I can hardly see your eyes, and you are always so serious during our walks. You are as unserious as can be in shopping carts though. While most kiddos sit with their legs through the front of the cart, you prefer one leg up. I will never understand.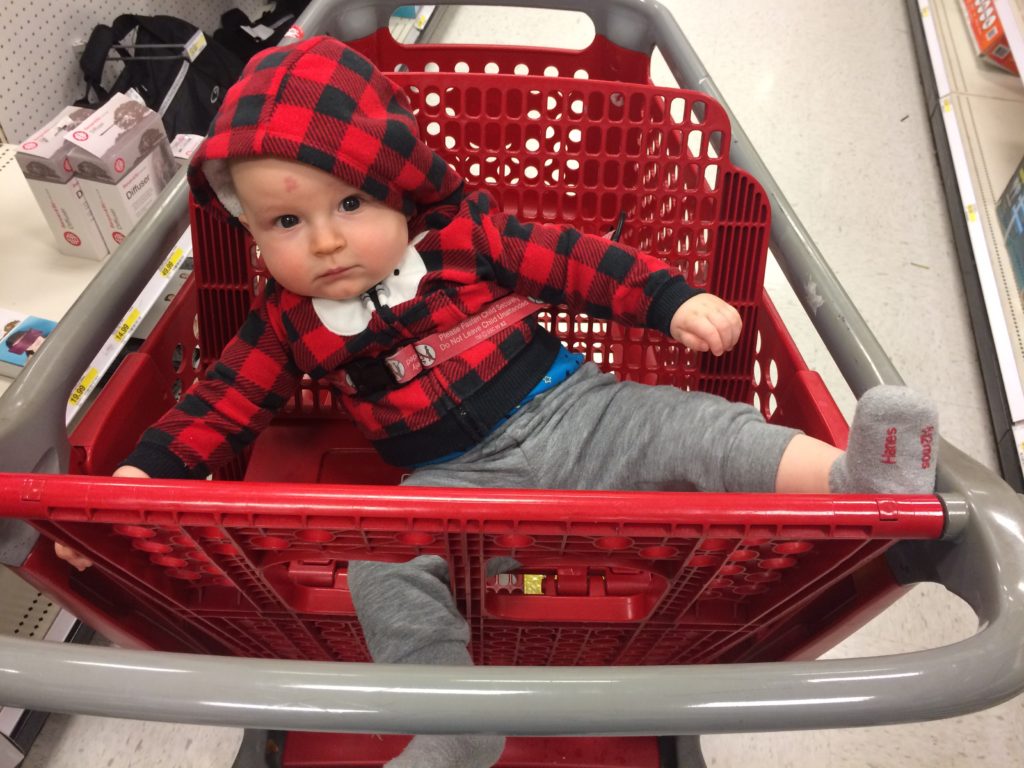 Denver, you love food and are now eating three meals a day! Oatmeal in the morning, fruit for lunch, and meat and vegetables for dinner. You're a champion eater and rarely picky. Lunchtime is one of my favorite times of the day because we eat together. You enjoy a Mum Mum (teething biscuit) while I eat my sandwich. Presley hangs out around your high chair hoping for food to fall. Along with traditional baby foods, you've tried waffle fries, sweet potato fries, dinner rolls, and pizza crust. You also tried to sip Dad's orange soda, but he wouldn't let you have any since you're only 7 months old!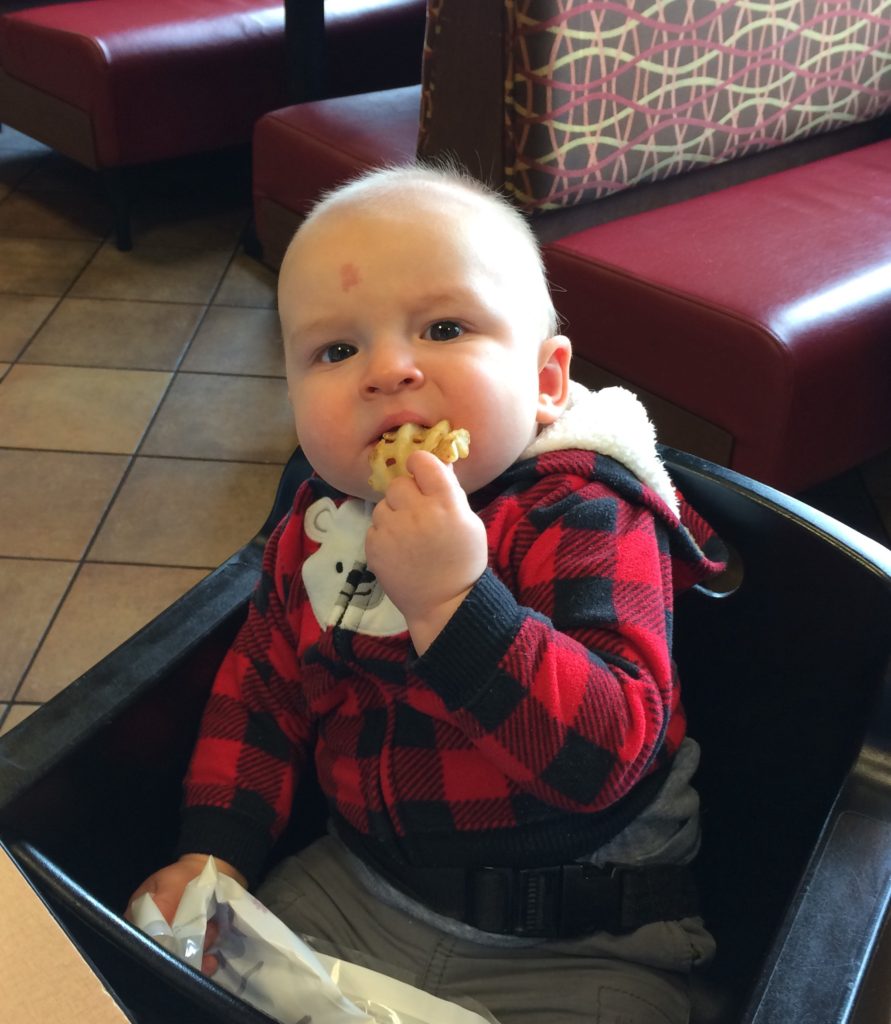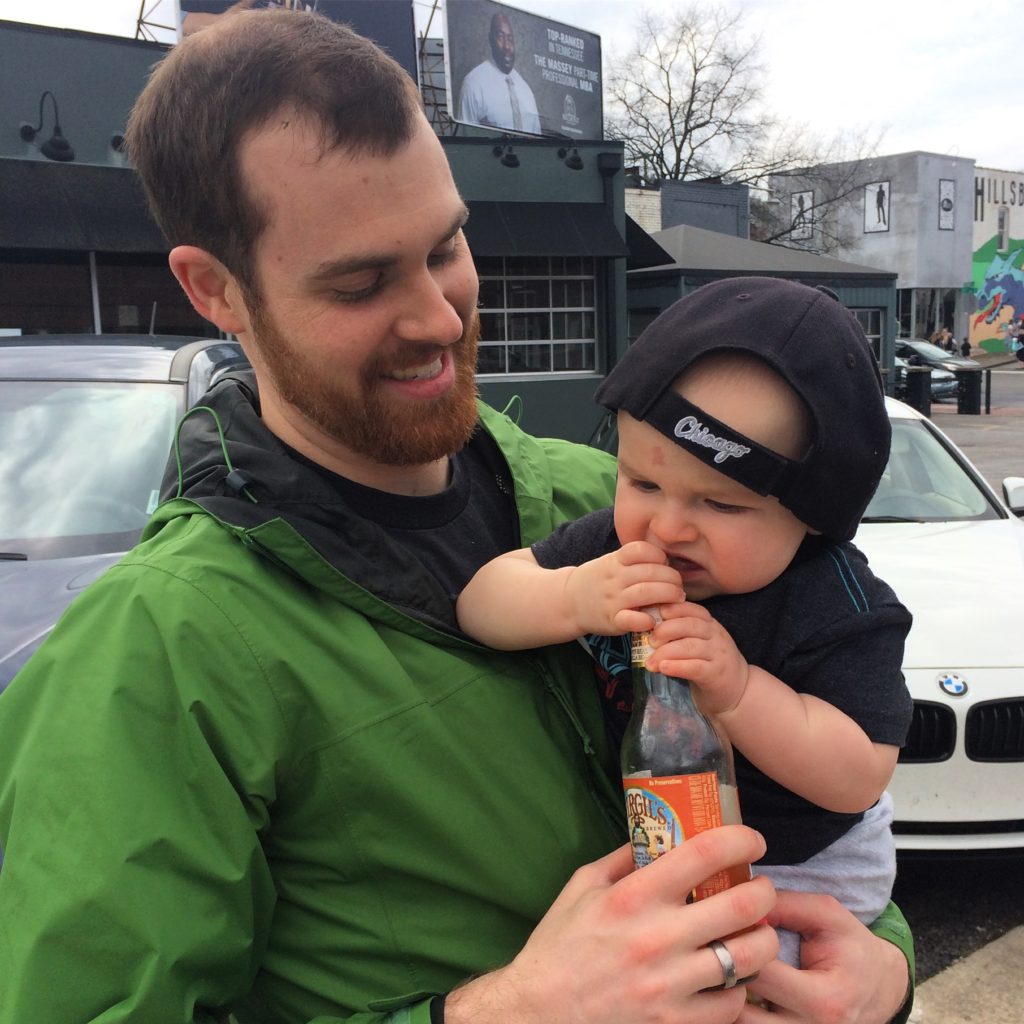 For a 7 month old, you've sure traveled a lot. We visited my family in Virginia Beach again. This time, we flew without your Dad. It was intense. You are much more active now than you were a few months ago, so sitting in a car seat on a plane was of no interest to you. You squirmed, tried to grab people who were sitting next to us, cried, laughed, shouted loudly, pooped down your leg, and spit up all over me. It was an adventure for sure. I am very thankful to all the people in the airport who helped with bags and entertainment.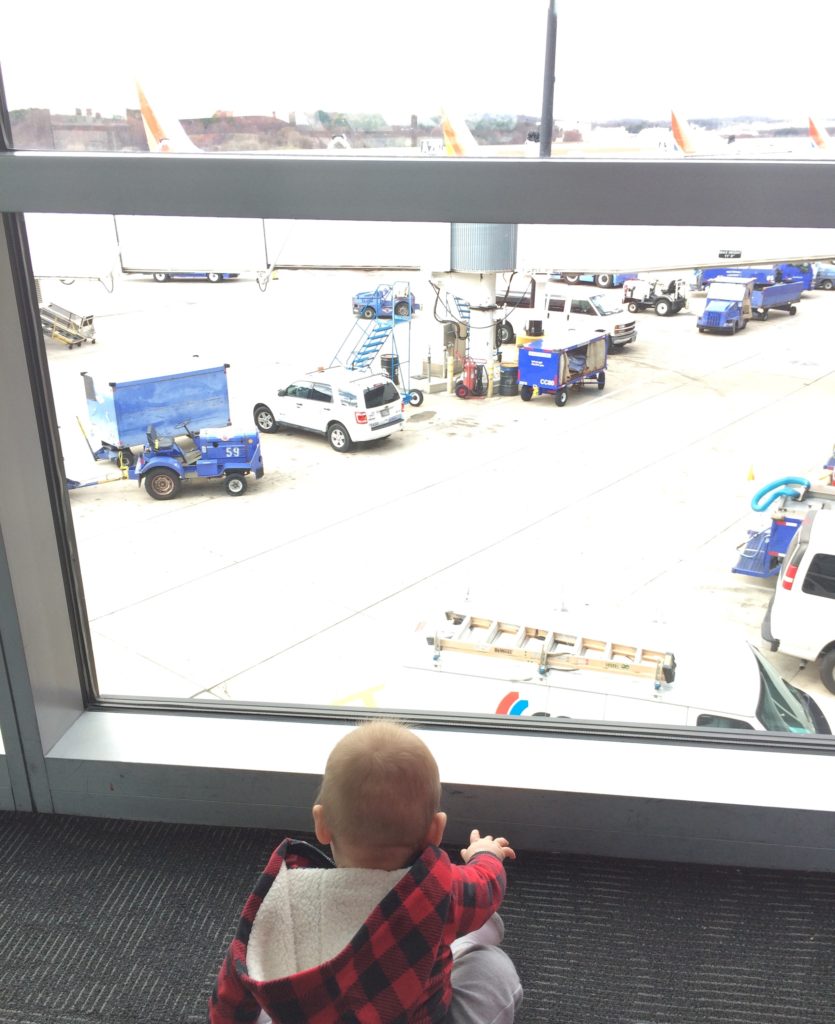 When we arrived in VA, you had a blast. We enjoyed dinner at Great Grammie and Grandpa's Friday night, traveled to Richmond on Saturday to attend Aunt Hannah's volleyball tournament, lunched with Great Grand Sarah on Sunday, and celebrated Aunt Lauren's birthday on Monday! There was also a fun shopping spree where Nanny bought you a summer wardrobe, a ton of playtime at Pappy's, and of course time with your Aunt Holly and cousin Carmen. We were both sick with colds, and I had Mastitis for the fourth time, so the trip was hard physically. It's always a joy to spend time with family, though, and I am so glad that you're getting to see my family in Virginia so often.
Denver, I love you so much. Thanks for being such a happy, energetic kiddo. Happy 7 months, little man.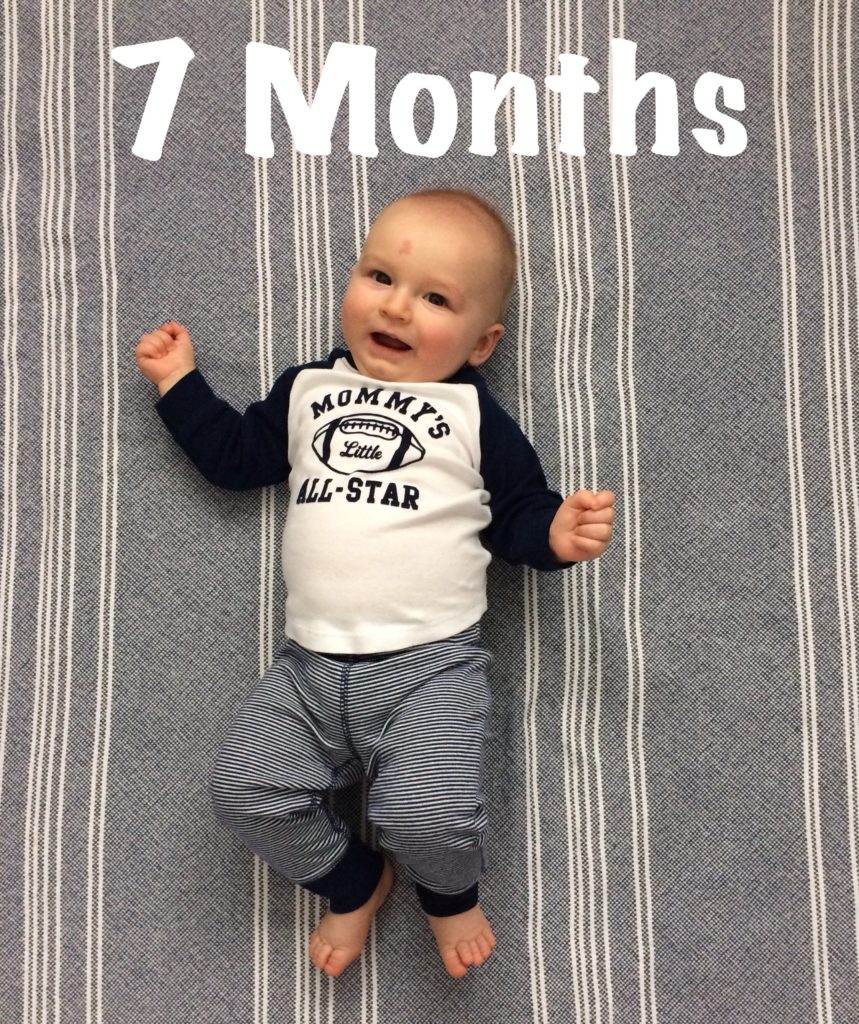 With love,
Mama