Dear Everett,
You are here! I'm so delighted, little man, because you took your time arriving. I could not believe it when I reached 40 weeks and you decided to stay put, so when you officially arrived at 40 weeks and 6 days, it was such a relief! I was worried about your size, and for no good reason. You weighed only 7 lbs, 1 oz. at birth. Clearly you needed that extra week to put on some weight. You were long, though, born at 20.5 inches. Your weight is picking up now, and I'll be curious to see the weight to height ratio at your next appointment.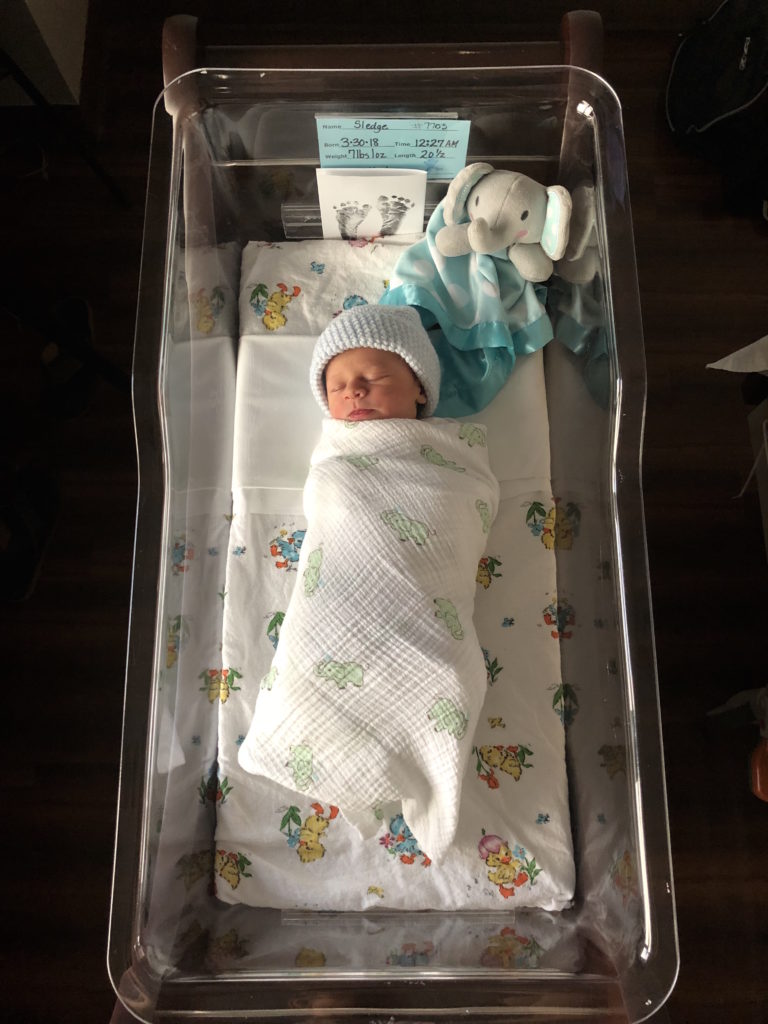 Let me just say, you're adorable. You have long fingers and toes, a prominent nose that looks just like your daddy, and my cleft chin! I still remember the moment the doctor placed you on my chest immediately after birth, and I pray I'll remember that feeling for the rest of my life. It was a holy moment.
This first month had it's ups and downs. Week 1 you were a perfect angel baby, napping all day, sleeping all night, and barely crying. It was calm and comforting to us all. Week 2 was rough. You woke up a bit, became much more vocal, and decided you didn't want to nap during the day. I really think it had a lot to do with tummy troubles that have since settled down. Life has calmed considerably these last two weeks. We're still working on naps, but I'm getting better at reading your sleep cues, and you seem to be more comfortable with the nap routine. You're happy for an hour of awake time, and then I calm you (or try to) and swaddle you up. The evenings are rough from 6-9ish, but there have been a few calmer nights recently, and I am hoping that you're settling into a nightly routine. At the very least, you are amazing at nursing quickly and going back to sleep at night on your own. That is a wonderful gift to Dad and me, and we are so thankful.
Let's talk about your brother. He loves you, and he's perplexed by you. When you wake from naps, he comes running to help pick you up. When you were crying one day, he grabbed a nearby pacifier, bolted from a room so fast that he ran into a door, and continued into your bedroom where he gave you the paci. He reads to you, holds you, and asks for you whenever we are at mealtime and you're not in your seat. So that's the positive. He has tried to launch off of you a few times, there have been some close calls with his feet kicking near you, and he tried to pick you up all by himself once and you both fell to the floor. I am thankful that babies are durable.
Speaking of durable, you visited the ER this month. I was babywearing you in the backyard on a very muddy day. Denver was covered in mud, and I bent down to take off his shoes. In the process, you fell out of the baby carrier, head first, and landed on the deck. I am SOOOOOOO sorry, Everett! You are fine, but let me say, it was the absolute worst day of my life. Love you, little man. (If it helps, please know that you projectile pooped in my hair one day.)
I am still getting to know your personality, but I get the impression that you're generally calm and snuggly. You absolutely love being carried, hate taking baths, and make the cutest facial expressions. Dad and I are both smitten.
Happy 1 month Everett! Welcome to Team Sledge!
Love,
Mama
P.S. Here is one of our first pics as a family of four!