Dear Everett,
Happy two months, little man! I am loving this age. You are so adorable, with your big smiles that start at the eyes, and your gentle laughter, which I can literally feel in your chest and back while holding you. You have a very sweet personality, and it melts my heart when you stare into my eyes for long periods of time.
You are outgrowing your evening fussiness, and I am soooo thankful! You definitely made full use of the witching hours, but you've recently calmed and evenings are more enjoyable. You especially settle down at bath time now that you bathe with Denver. It's pretty adorable watching you two in the tub together. I love seeing your friendship grow.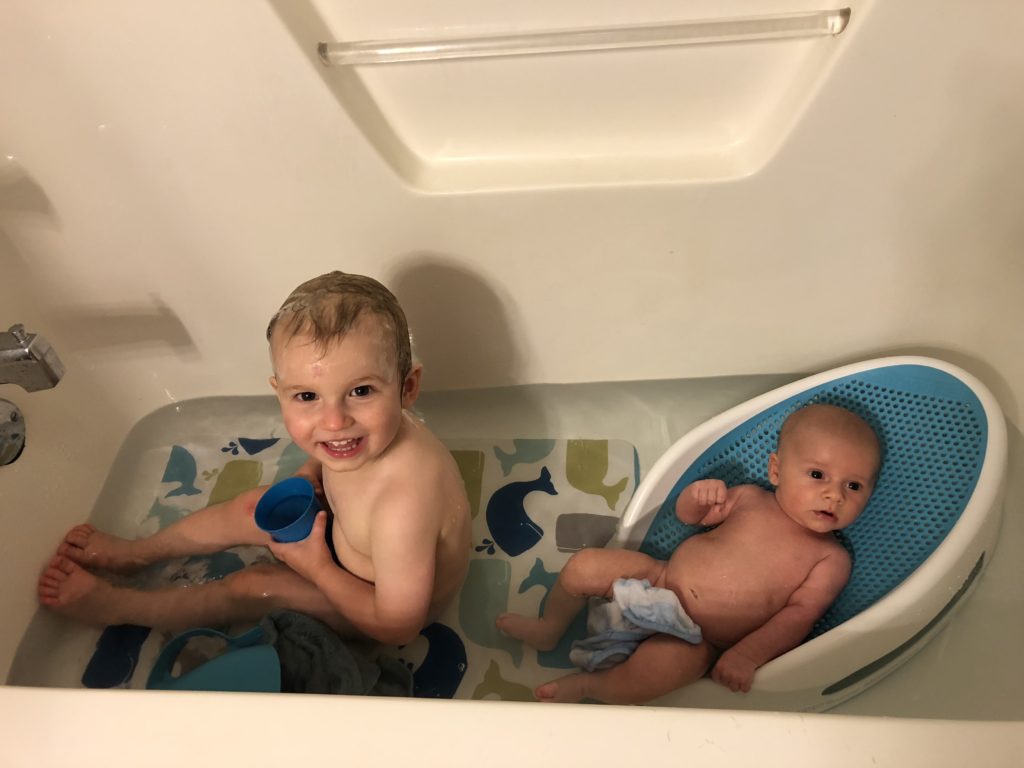 It still takes some time to get you to sleep each night, but you are a tremendous sleeper, waking only 1-2 times a night to nurse, and going back to sleep fairly easily. You switched from a velcro swaddler to a blanket swaddle midway through the month, and you definitely prefer being able to move around more. The night sleep has been such a relief for your Dad and me, so please keep it up, little buddy!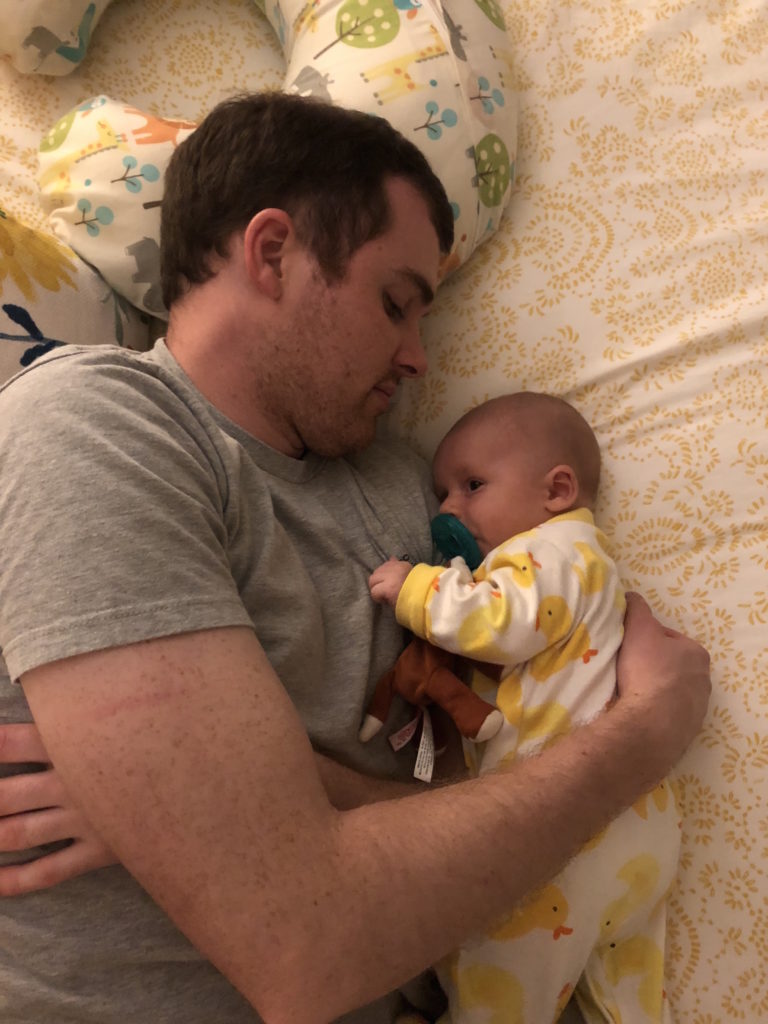 You've already hit your first major milestone, and that's because you are ROLLING! At five weeks you surprised me when you rolled from your tummy to back. Then you did it several more times in a row, and again the next day! What a champ. I keep a close eye on you now because I am always afraid you're gonna roll off furniture.
Ev, I absolutely love your expressions. You have many. They are the most obvious when you are staring at your toy moose, Mortimer. I am glad to see that you have a goofy side. You are also very happy while playing on your play mat. You're already swatting at toys, and it's interesting to see that you have an independent side. You will play on your mat for 30 minutes at a time, and it's very peaceful to watch.
Your hair is getting longer now, and there is one spot that is extra long in the back. Dad calls it your Alfalfa patch, and it makes me laugh because it often sticks up a bit.
As calm as you are, you detest the car seat. You seem to run warm, and you get hot in the car, which makes you cry louder, which makes you sweat more. Good grief. The car seat is your friend, Everett! I am hoping you'll learn this soon.
Everett, you really are an incredibly sweet little boy, and it's lovely how easily you're comforted when Dad and I pick you up. We love you so much and are so thankful that you're a part of our family. Happy two months! You actually get two pics because I can't decide which is the best.
Love,
Mama