Dear Everett,
Happy three months little man. Let's start with a mom confession: I totally call you Evie. When you're older, this probably won't be cool, and I'll start calling you Everett again. Right now, though, you're so little and Evie seems to suit you. So, Evie it is.
You are laughing a lot this month, and I am loving it! So is your brother, Denver, who is the cause for much of your laughter. You think it's funny when he bounces on the trampoline, and you watch everything he does all day long. I hardly have to entertain you half the time because you are mesmerized by watching him. Sometimes he makes loud excited sounds, and you mimic them, and it's amazing to watch you two interact in this way. I'm so thankful that you're becoming best buds.
While you laugh a lot, you did have a complete breakdown at church one Sunday morning. I think you were overtired, but honestly, it was a bit uncharacteristic for you. You were so panicked that I couldn't calm you down and had to ask Dad to assist. He came back to the nursery area, rocked you in a chair, and you immediately calmed down and fell asleep. It was sweet and lovely and I'm so glad that you love your Dad so much.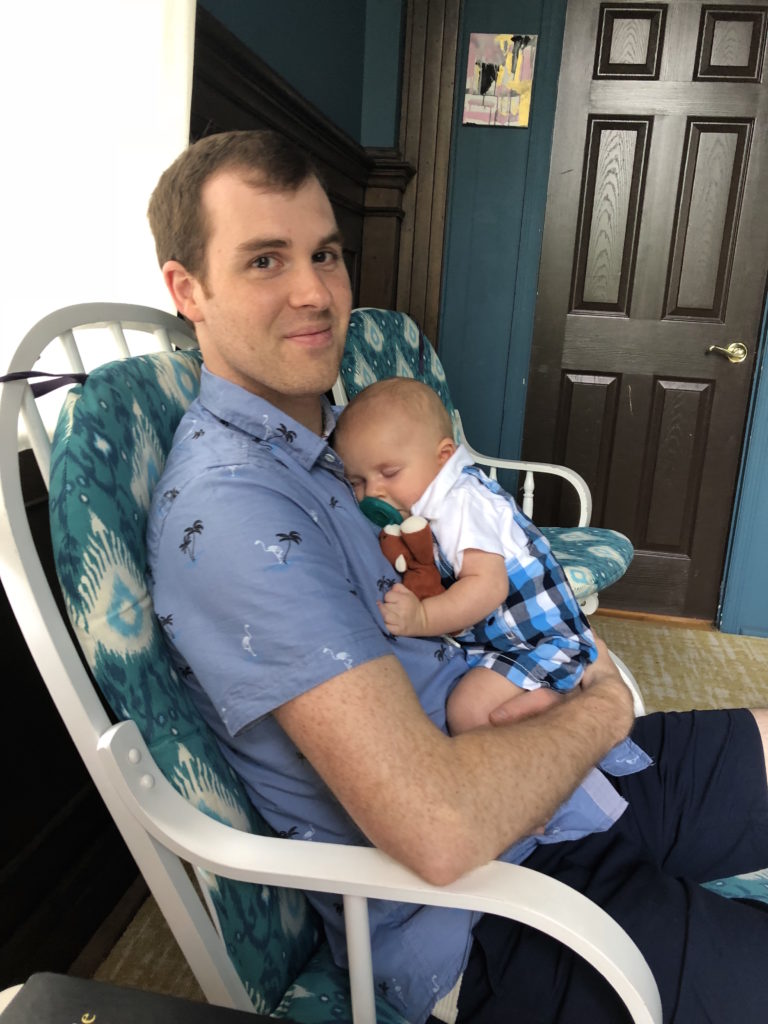 Everett, you've discovered your tongue and you think it's fun to stick it out all the time. You also love it when I stick my tongue out at you. We sit on the couch sticking our tongues out at each other, and it's a fun way to spend the afternoons. Speaking of body parts, you're finally filling out your belly. You've been such a skinny baby up to this point. Keep drinking that milk, little man. Your feet are also fun. You have these little zebra and tiger socks that you wear in your bouncy chair, and you kick and stare and try to grab ahold of these socks each day. So cute!
This month you experienced a first: swimming in the pool! The cool water initially alarmed you, but you adapted very quickly and actually enjoyed floating around with me. I'm planning to take you to the pool pretty often, so get pumped!
Finally, we took some family photos this month to make sure we captured you as a baby! Everett, it was tricky to take the pics. You acted like a sweet little champion baby, but Denver continually tried to derail the process. It's a wonder that we were able to get any good pics! But, we did, and you're adorable, and I'm so thankful to have memories from this season.
Love love LOVE you little Evie! Happy three months!
Love,
Mama