Dear Everett,
Happy half-birthday, little buddy! I cannot believe how fast the last six months have flown by. I still vividly remember holding you on my chest moments after you were born. I remember walking around the house and you falling asleep as I carried you in the crook of my arm. It seems like I blinked, and you're six months old!
Fall is finally here, and we've been taking full advantage of the cooler days. You are big enough for the double stroller now, so we take walks in the afternoons. We also drove to a playground, and you enjoyed your first ride in a swing! You were the tiniest little swinger I've ever seen! It was precious, and we'll get back to the playground soon.
Since you enjoy riding in the stroller, I thought you would also enjoy riding in a grocery cart. I was so wrong! You wobble all around and eventually start crying. I took some cute pics while the fun lasted, but you are still in the baby carrier during most of our excursions. I think you need a few more pounds and inches before you fit snuggly in carts.
This was another fussy month, little dude, but the fussing seems to have paid off. You have your first tooth! I wasn't sure if it would make it this month, but it literally cut through on the last day. You are working hard on your second, and I can't wait to see your toothy grin.
Recently you started smacking your lips around lunch and dinnertime when the entire family was eating without you. So we stared you on solids, oatmeal and veggies. Things got off to a rough start, but once you discovered squash, you became the happiest little eater.
I love you, little Evie. I love watching you each day. I love your smile. I love your contagious smile. I love watching you laugh at your brother, play with new toys, and observe the world around you. Thanks for being such a wonderful addition to our family. You are incredibly loved.
Happy six months!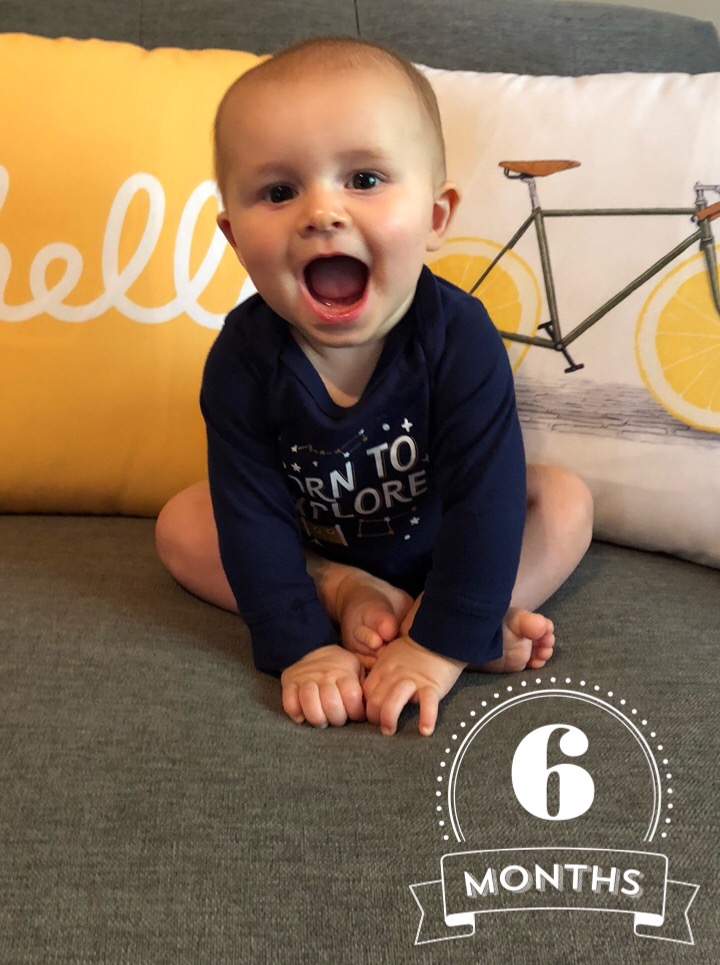 Love,
Mama