Dear Everett,
Hello my happy little 8 month old! This month was full of excitement as we celebrated your first Halloween and Thanksgiving and also your new ability to crawl!
Let's start with the holidays. For Halloween, Denver dressed up as The Man with the Yellow Hat which meant that you dressed up as Curious George! You were so completely adorable, even if you were not super excited about the hat part of the costume. The best part was your banana teether, which I did not plan at all to coordinate with your outfit. I literally gave it to you to chew on as we were walking out the door. So hilarious and perfect!
For Thanksgiving, we journeyed to your grandparents house. You were a bit tired because teething has caused some very short naps, but you had fun hanging out with everyone right up until nap time. You were also the cutest little turkey I've ever seen. I made you a little hat with your handprints, and you actually wore it!
Dad took off work the entire week of Thanksgiving, which was perfect timing because it's when you learned to crawl! Den was napping downstairs, and Dad and I were playing with you upstairs. You'd been rocking back and forth on all fours but not committing to forward motion. All of a sudden, you took off with a clever little knee and foot crawl! It was like you'd been waiting until you absolutely knew you could do it, and then you were full steam ahead. You now use one knee and one foot and hobble all around the house. You are ridiculously adorable, and Dad and I are delighted about your new skill!
Along with your mobility, you are so happy now! The crankiness dissipated the day you became mobile and was replaced with laughter and smiling. What a relief, and what good timing. You have needed this happier disposition to help with the sicknesses you've been battling for the better part of the month. Early on you had a virus, and when that started to clear up, you came down with Hand, Foot, and Mouth disease. You have been so sick, with a fever and sores and a cough, but you're making it through. I am hopeful that you'll heal up soon.
Along with mobility, you're making strides in communication. You now say "mama." At first, I thought you were just babbling, but now I'm convinced that you're actually saying my name. You consistently say "mama" when I am around and you want to be picked up. So, it might mean "mama come get me," but I'll take it! Mama is an excellent first word, little man. You also mimic breathing in and out of your nose and clicking your tongue against the roof of your mouth. The imitation game is really fun, and everyone, including Denver, enjoys making sounds with you.
Speaking of Denver, you two are continuing to grow into best friends. He lays next to you and asks for pictures with "bro." He showed you how to splash water in the bath tub, and you splash with him and make squealing noises. He holds your hand and asks me to say prayers, and he makes you laugh when we're in the car and you're ready to get out of your seat. What a joy it is to watch your friendship get stronger each day.
Happy 8 months my sweet baby Everett! You are such a lovely baby, and I'm so thankful that you're part of our family!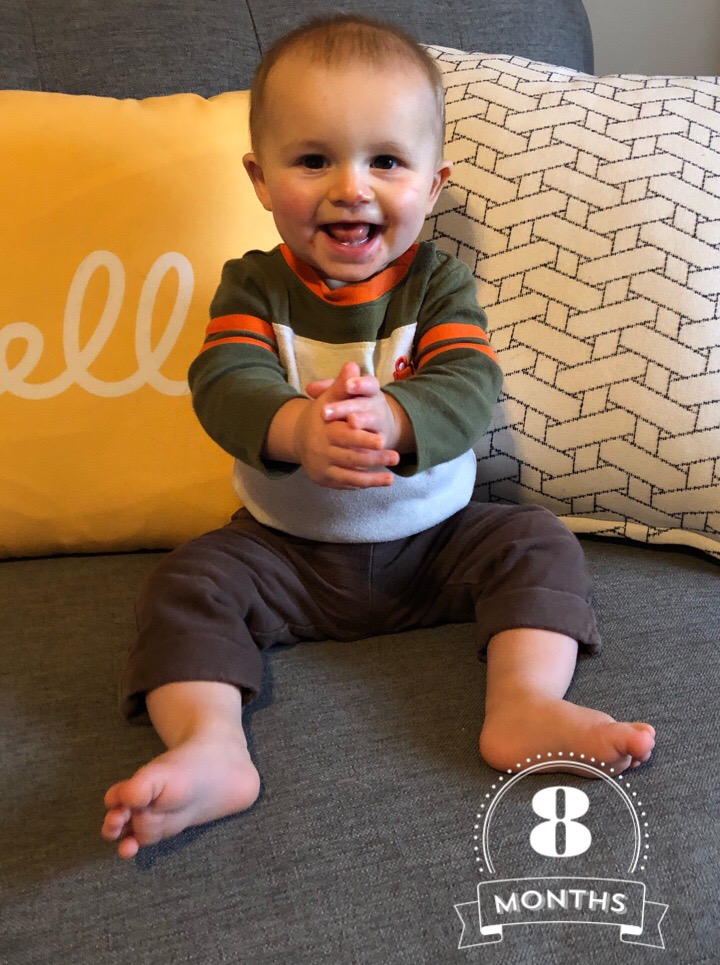 Love,
Mama