Dear Denver,
I am so excited to be writing this letter to you, because it's time to celebrate your third birthday! You have been so pumped, telling everyone you see that you'll be three on August 6th, and holding up three fingers, so proud of yourself. Being your mom is an absolute joy and delight, and this year has rocked.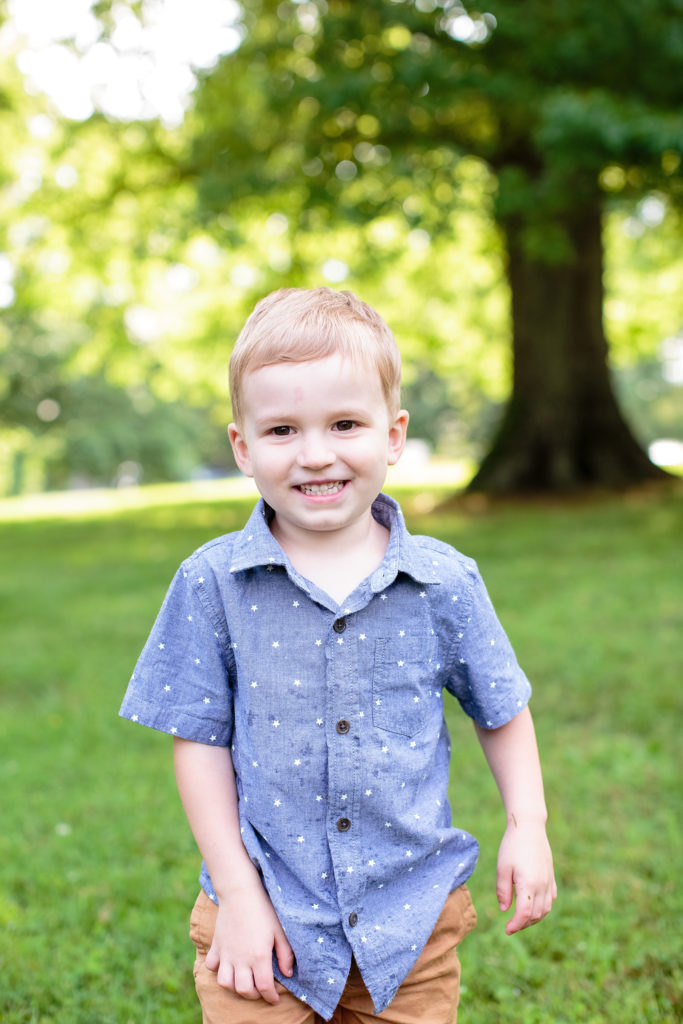 You are so big now! You potty trained easily right after your second birthday, moved to a big boy bed a third of the way through the year, and seem like such a legit kid now, less of a toddler. I don't even know where to begin recapping this year because it's been so full and so fun.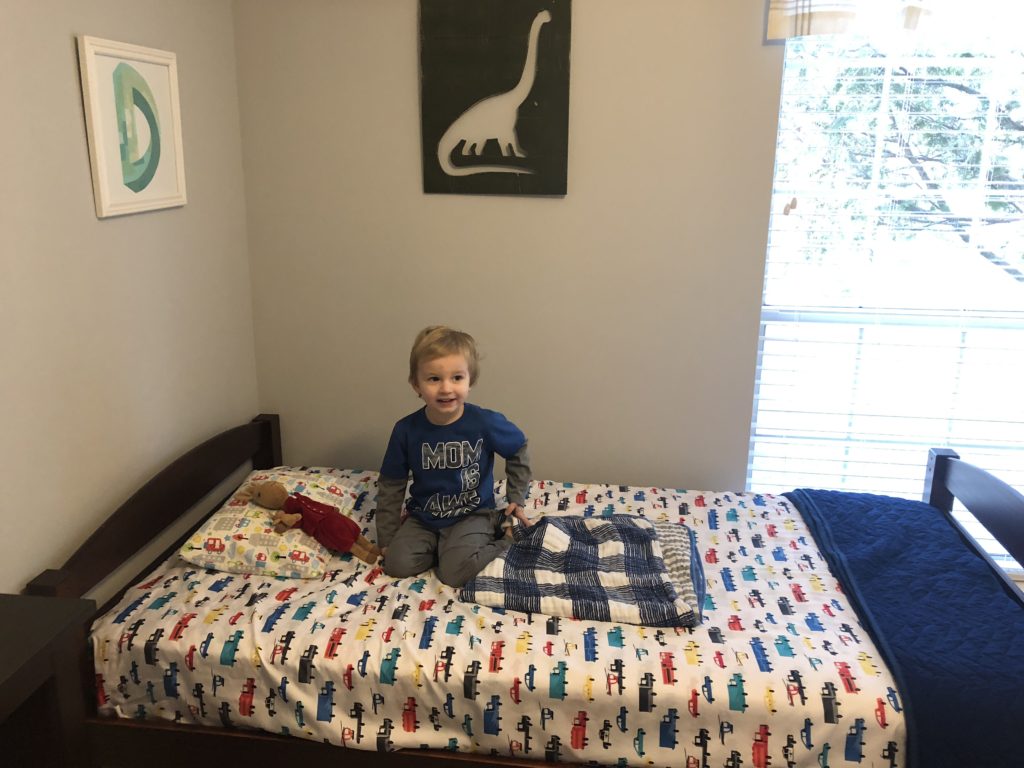 Let's start with your love for people. You are delighted when we go places and when people come to visit. Each day you ask me, "What are we gonna do today?" Whether we're visiting Los, going to the library, meeting friends at the park, or waiting for your grandparents to come over, you spend the entire day seeking out play mates. Once you see others, you run over, start talking, and hold their attention until it's time for us or them to leave. You recently charmed a hair stylist so much that you got a lollipop and hot wheels car at the end of the hair cut. By the way, you love getting hair cuts and pretending to give hair cuts at home. You make sure your client wears a blanket cape, grab your drill which doubles as a hair dryer, and say, "Don't be afraid, this will just tickle." It's cute and adorable.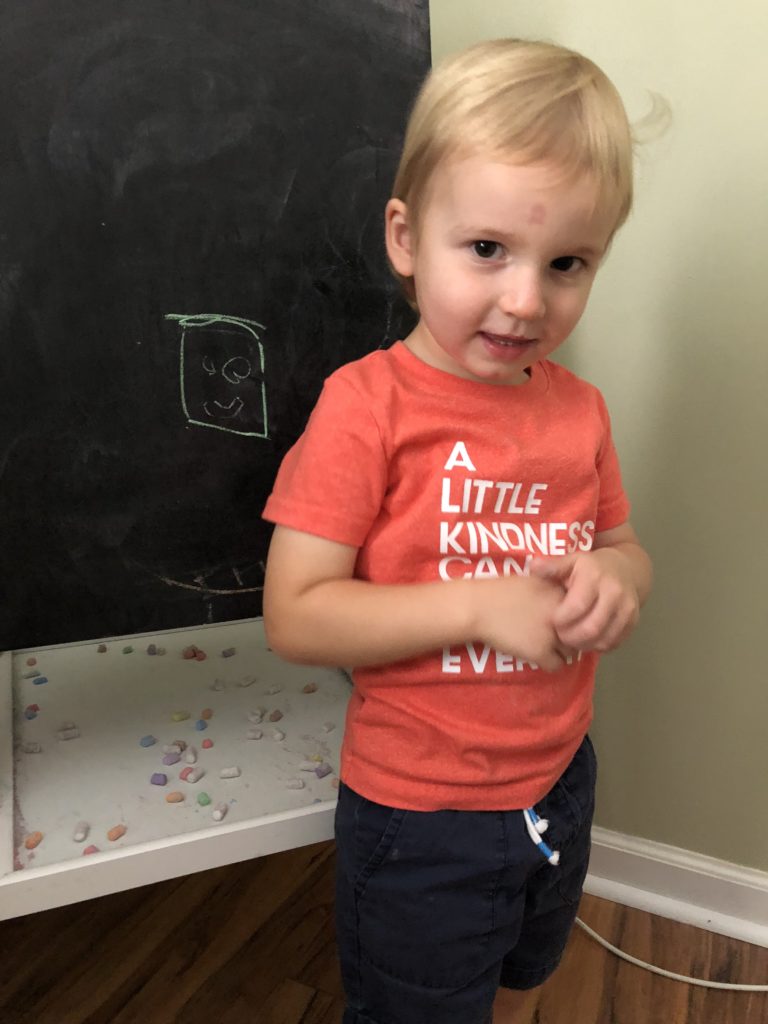 Other favorite games include couch cars, where you drive every single one of your hot wheels from one side of the couch to the other, parking them in a straight line, and cheering when you've moved them all. Tickle bear is also a hit, where either you or I pretend to be a bear, and we chase each other around growling. You love painting, coloring, and practicing drawing the letter "D." You also love being active. You can hit a baseball that someone pitches to you so far it goes over the fence. You love riding your scooter, taking walks around the neighborhood, kicking a soccer ball, climbing on playgrounds, and swimming. The swimming is something I am especially proud of because you were so timid a year ago, and now you're quick to put on your swim vest and get in the pool. Overall, you do things big and fast. You are so fast that a friend told me, at the library, that I should embrace the running because maybe you'll get a track scholarship. Perhaps all of my chasing you will pay off one day.
Speaking of the library, you have a great love for books. We read before nap time and bedtime, for about 30 minutes straight, and I think you'd read through every book in your dresser if I didn't cut you off. You love picking out new books at the library, and you have favorites including Curious George, any book about Halloween, and the Bible.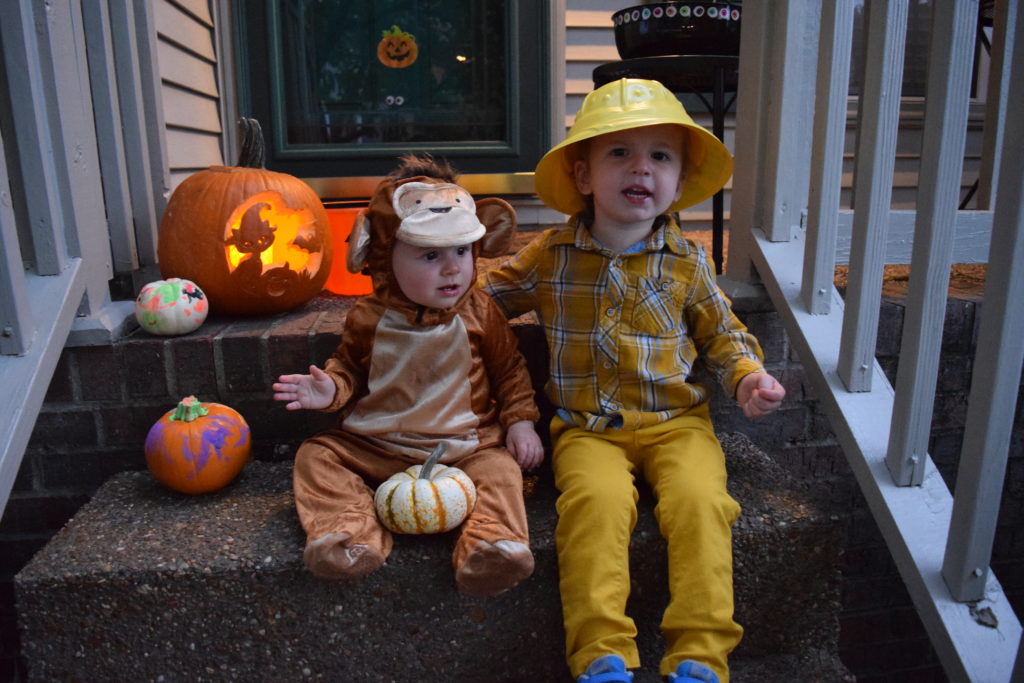 Denver, I love watching your love for God grow in your heart. Every Sunday, you are genuinely excited to go to church. You recently memorized your first memory verse, "Be still, and know that I am God" (Psalm 46:1). You can sing "Jesus Loves Me," "Joshua Fit the Battle of Jericho," and "My God Is So Big." One night, you even told your Bible stories to an unbelieving friend who was over, and it was as if you were evangelizing. I pray that you will continue to grow in knowledge of the Lord and that one day you will choose to follow Jesus as your Lord and Savior.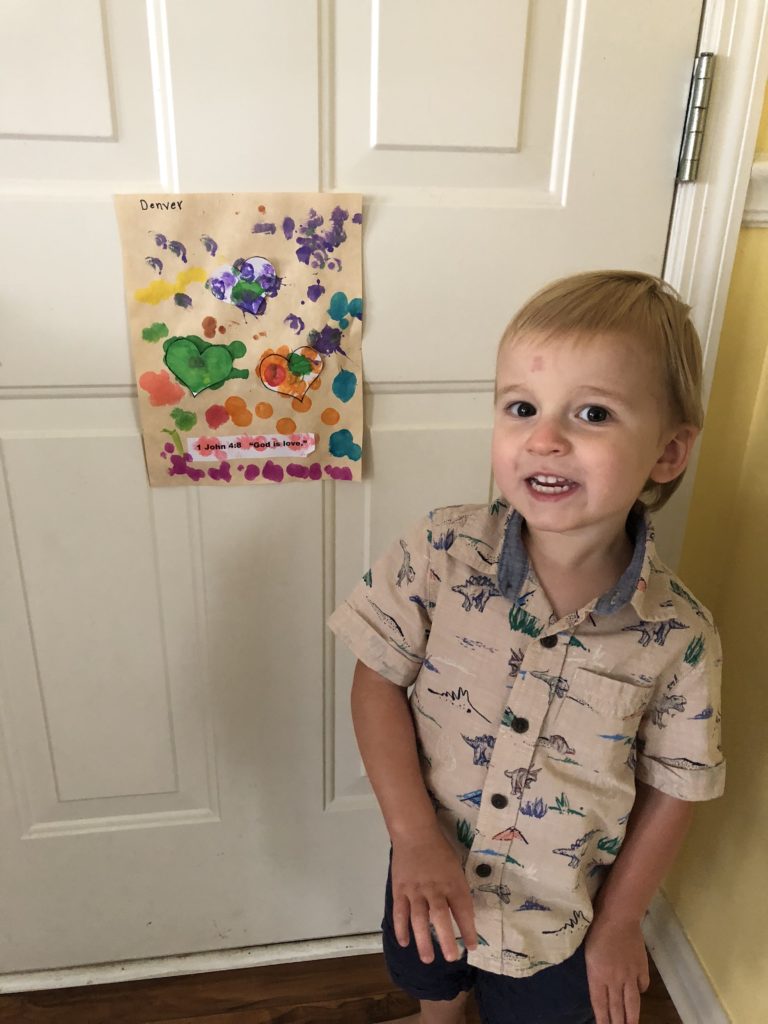 One of the most special things about you is your love for music. When you hear songs on Alexa aka "Lex," you can pick out which instruments are playing and mimic playing them yourself. You dance, rather jubilantly, in the kitchen, and you tell us that you are break dancing. You also entertain us with songs on your guitar, most notably Brad Paisley's "Mr. Policeman," "Daniel Tiger's Neighborhood Theme," and "Paw Patrol Theme." A good portion of each day is spent in the kitchen dancing side by side with your brother, Everett, and this brings me so much joy.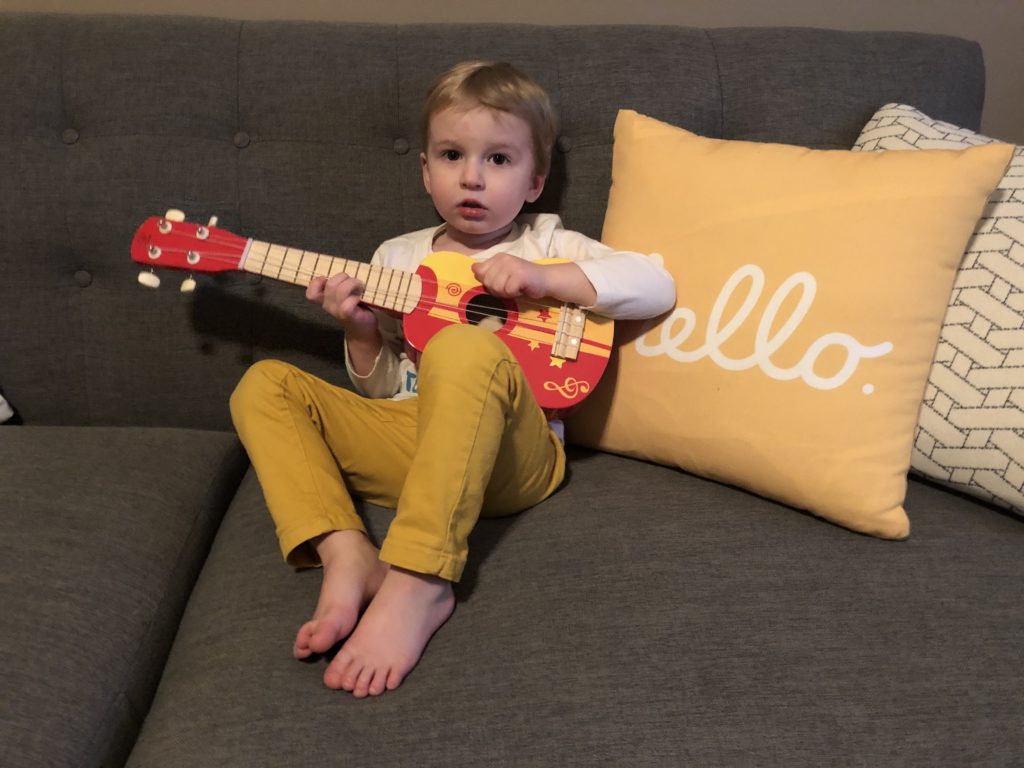 You love "lil Evie" and really are a terrific big brother. You greet him in his crib in the mornings and say, "Hi, cute lil Evs. You are so cute and lil." Whenever you grab your milk out of the fridge, you also grab some for Everett. You've gotten really good at sharing, even when it's hard, and you often make sure Ev is ok, checking on him when he's crying or out of sight. You give him gentle hugs, make silly sounds that are specific to the two of you, and laugh hysterically at each other's antics. I'll be honest, you do tend to plow Everett to the ground more than I'd like, but I think it's out of a desire to wrestle.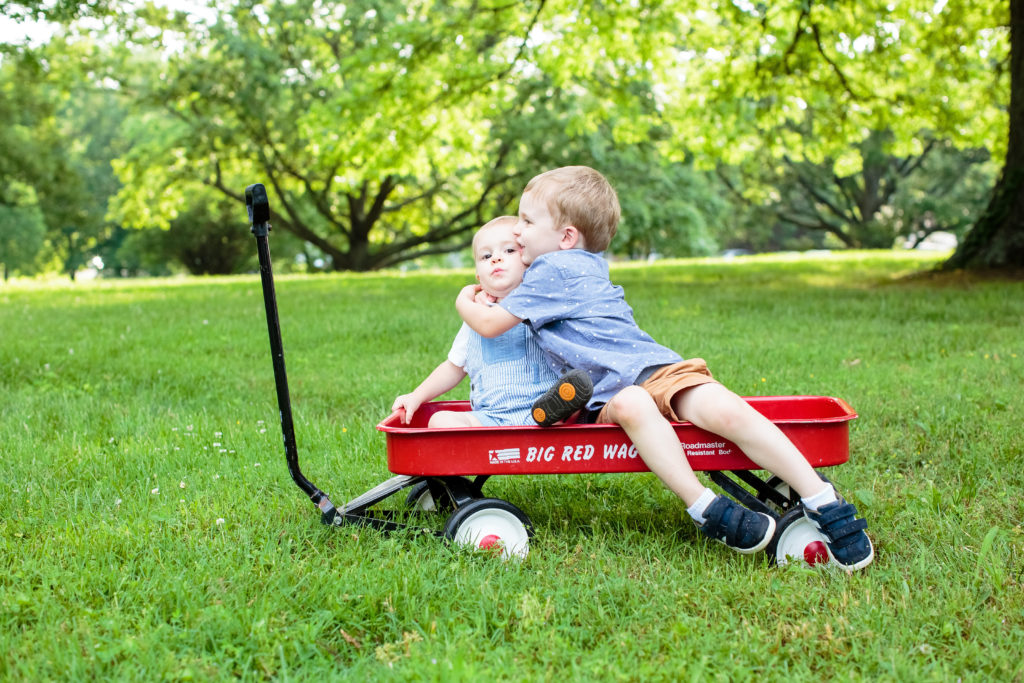 Some of my favorite moments this year have been listening to you speak. One day you ran to tell me, "I love you, best friend mom." Another day I said I couldn't believe I had two sweet boys, and you said, "And we have you, sweet mom." You are so encouraging, thanking Dad and me for making dinner, cleaning the house, and taking you places. You also lift everyone up when we're struggling, telling us that it's ok to make mistakes and cheering Everett on when he's learning something new. One of the more hilarious moments was when you were having a bad attitude one night and Dad threatened to throw away your beloved gummy bears. You, my strong-willed, determined child, looked back at him and said, "Guess you just throw them away…also my goldfish too." When Dad threw them away, you didn't even bat an eye. It was impressive and hilarious.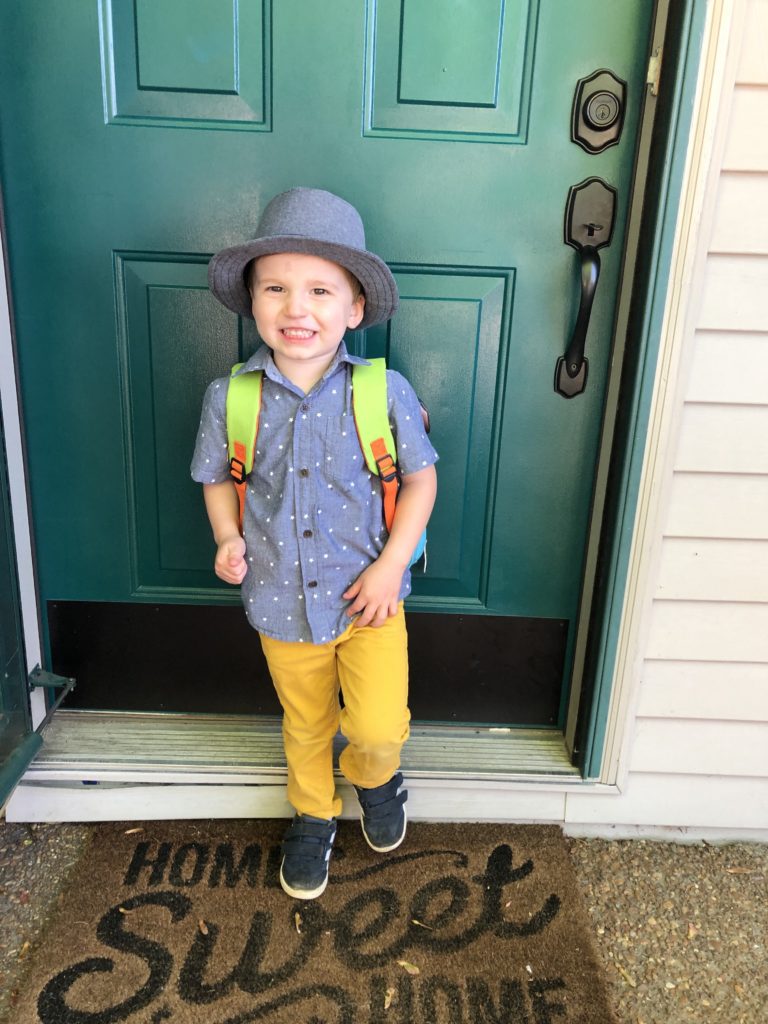 I want to remember your favorite things, so here is a list, in no particular order. Your favorite shows are Superwings and Paw Patrol. Your favorite color changes daily but is often yellow. Your favorite thing to do is go to the zoo to see the animals, followed closely by playing baseball. Jets Pizza is still your favorite food, and sweet tea is still your favorite drink. You want to be a race car driver for Halloween, your favorite holiday, and a fireman when you grow up.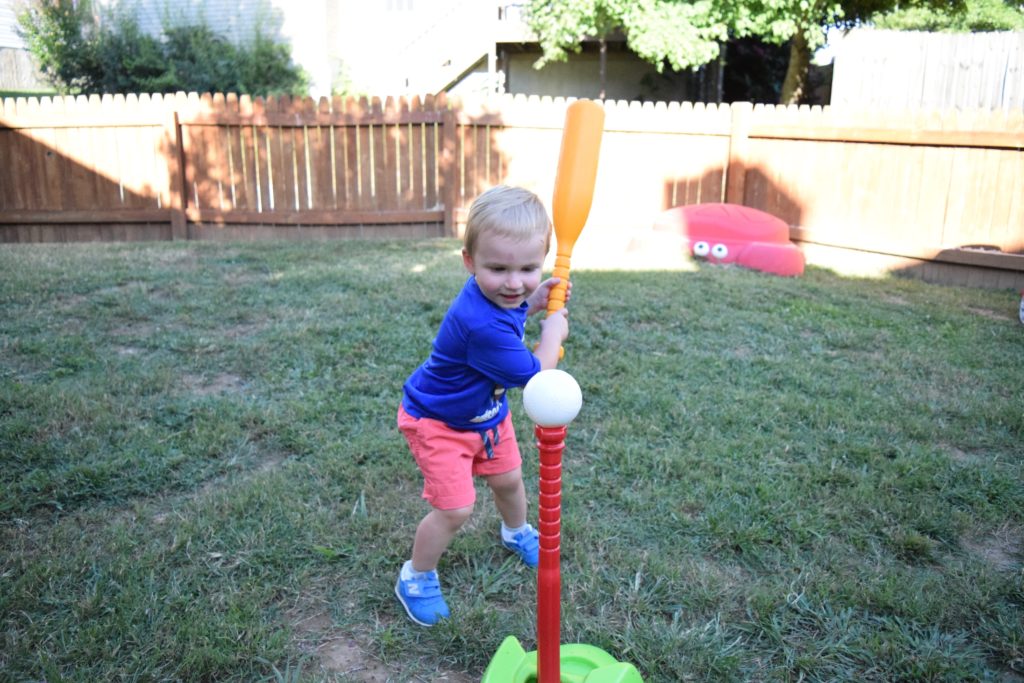 Denver, my sweet baby boy, I am so grateful that God gifted your Dad and me the privilege of being your parents. You are an incredibly kind-hearted and creative boy, and each day I am overjoyed that you are part of our family. Please stay as joyful, willful, and beautiful as you are now. Truly, we love you exactly as God made you.
Happy 3rd Birthday, sweet Denver Josiah. You are so loved.
Love,
Mama